Unveiling the Gamechanger:
Nilpeter's FA-26 takes
center stage for the first time ever.
Witness Nilpeter's vision of the Future of Flexo at Labelexpo Europe. Discover cutting-edge technology and exceptional performance in short- run flexible packaging and labels. Don't miss this opportunity to experience

Experience the Future of Flexo printing
Labelexpo Europe visitors will have the exclusive chance to explore Nilpeter's FA-26 and FA-17, showcasing exceptional performance in short-run flexible packaging and labels. The FA-26, making its first-ever appearance at an exhibition, is set to redefine industry standards with its exceptional inline printing capabilitiefor various applications, including pouches, sachets, wrap-arounds, shrink sleeves, and more. Designed with a robust construction, compact footprint, and innovative features, the FA-26 ensures high print quality at any speed, setting a new benchmark for flexo press performance.
The Power of Flexo continues
In addition to the FA-26, Nilpeter will also display the FA-17, a vital component of the renowned flexo flagship, the FA-Line. Witness the latest advancements and cutting-edge features, firsthand in Brussels in September. The FA-Line is hailed as the most versatile flexo press on the market, continually adapting to the evolving requirements of modern printers, ensuring maximum efficiency and productivity.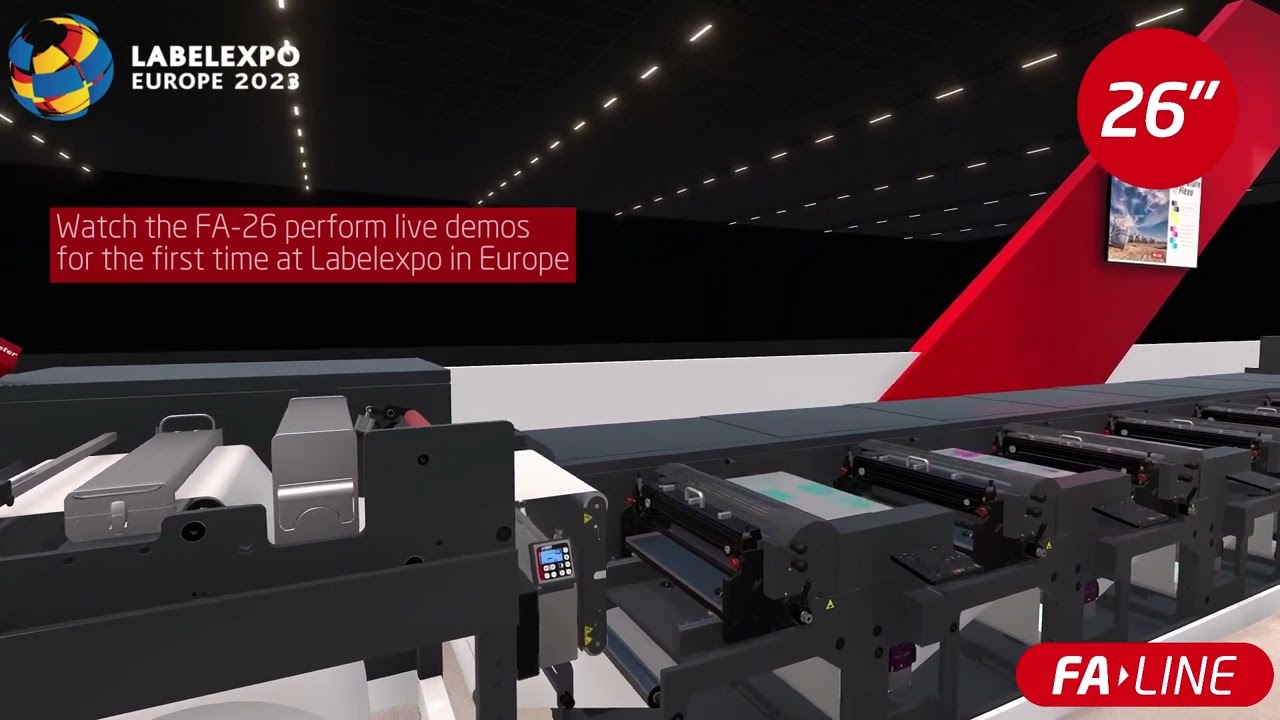 Discover innovative solutions
Visitors to Nilpeter's booth at Hall 7, Stand 7B40, will have the opportunity to explore the Digital Varnish Bar, an integrated and retrofittable solution seamlessly replacing traditional high-build and spot varnishing techniques. The cost-efficient and time-saving Digital Varnish Bar complements any Nilpeter printing press, delivering exceptional results and elevating print quality.
Nilpeter presents its Digital Shadow- entering the digital space
Nilpeter presents it's innovative Digital Shadow technology. A digital shadow refers to the comprehensive digital footprint left by a press as it operates, capturing crucial data on usage, performance, and maintenance requirements. With Nilpeter's Digital Shadow, you can now immerse yourself in a complete twin of a physical press in the digital realm. Track data, measure performance, improve design, and utilize this powerful tool to train and educate staff and users. Unlock the full potential of printing with Nilpeter's Digital Shadow and embrace a new era of precision and efficiency.
Nilpeter and Screen collaboration
In an exciting collaboration, Nilpeter and Screen have combined their expertise to present the latest generation of their combined press solution at Labelexpo Europe. This remarkable press features the integration of two flexo printing units from Nilpeter's renowned FA-Line with the advanced new Truepress Label 350UV SAI technology from Screen. Witness the unmatched capabilities of this combined press, including post-print cold foil embellishment, post-varnish spot color, as well as unwind and rewind units.
Join Us at Labelexpo Europe
We, at Nilpeter invite all industry professionals, printing and press enthusiasts to
join us at Labelexpo Europe in September 2023. Be a part of the future of printing
technology and experience firsthand the innovative units and features presented
by Nilpeter.